Tooth Extractions – Rockville, MD
Extracting Severely Damaged Teeth to Preserve Healthy Ones
At Rockville Family Dentistry, we understand how important your natural pearly whites are to you, which is why we never recommend tooth extractions unless we've exhausted all other restorative treatment options. In cases where a tooth is severely damaged or causing you discomfort, we can safely remove it and replace it with a prosthetic to not only preserve a complete and functional smile, but also one that is healthy and happy. For questions or to learn more about tooth extractions, please give our team a call.
Why Choose Rockville Family Dentistry For Dental Crowns?
Same-Day Emergency Appointments
We Accept & Maximize Dental Insurance
Friendly & Warm Dental Team
Why are Tooth Extractions Necessary?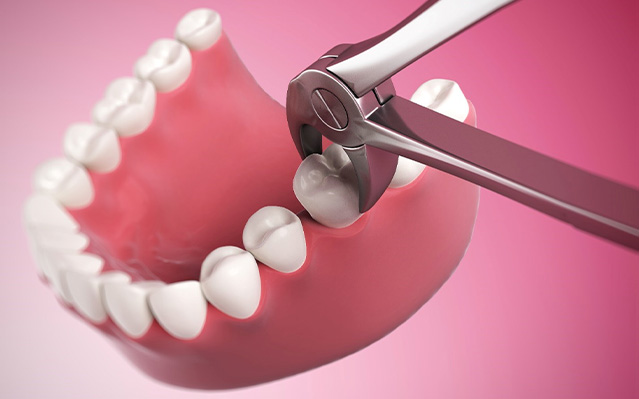 If we recommend a tooth extraction, it's likely because the affected tooth isn't able to be repaired or replaced. Here are some instances in which we may suggest this treatment:
Extensive decay that has deteriorated a majority of the tooth
Severe infection that could spread to surrounding teeth
Advanced gum disease or bone loss
Wisdom teeth that are impacted or pose a risk to your future oral health
The Process of Removing a Tooth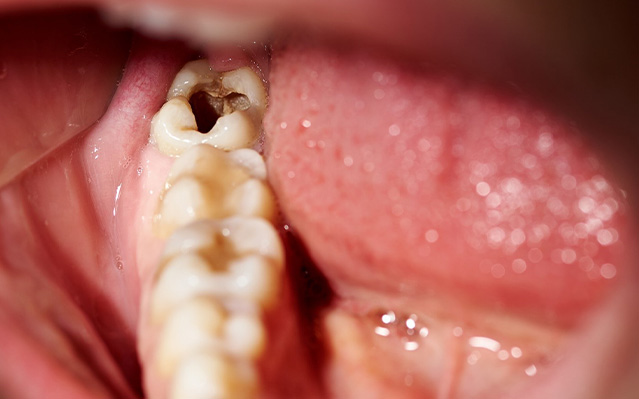 There are multiple ways of removing a tooth depending on its location in the mouth. Dr. Modarres will conduct a visual examination of the affected area and take digital X-rays to determine whether you'll require a simple or surgical extraction. Then, our team will walk you through the procedure so you know exactly what will happen moving forward.
If the tooth is located above the gumline, we will use dental forceps to gently grab it and wiggle it free of any connective tissue. This will allow us to remove it from the mouth comfortably. If the tooth is impacted below the gumline, we'll need to gain access to it first by making an opening in the gums. We'll then separate the tooth into smaller pieces, making it easier to remove them from the mouth.
Tooth Extraction Aftercare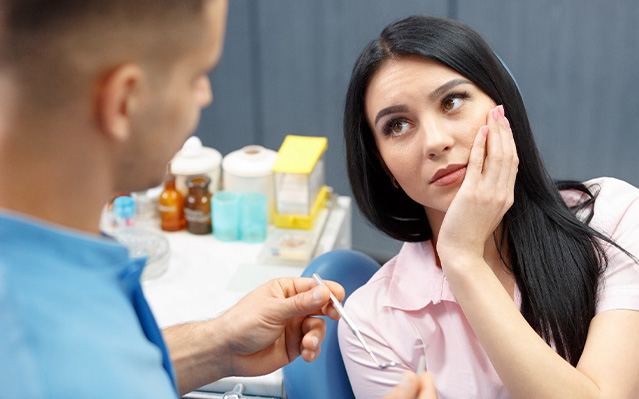 After your procedure, we'll provide you with a list of aftercare instructions to ensure you heal quickly and to minimize any risk of complications. Some tips that we typically recommend include:
Take any prescribed medications as instructed
Keep the surgical site clean by carefully brush and flossing around it
Don't use mouthwash that has alcohol
Stay hydrated with water and rest
Use a cold compress to reduce swelling
Avoid hard, crunchy, sour, sticky, and spicy foods for several days following your treatment
Swelling, discomfort, and bleeding is typical post-op, but if you feel any of these are excessive, feel free to reach out to our friendly team. As days go by, you should notice that any discomfort gradually gets better, eventually disappearing.
Tooth Extraction FAQs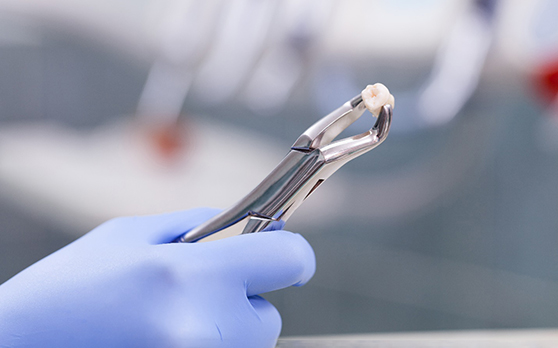 Do you have a tooth that might need to be removed soon? We'll take whatever steps are needed to help the process go smoothly. If you have any questions or concerns about your tooth extraction, don't hesitate to reach out; we'll be happy to tell you whatever you need to know before your procedure. To make things more convenient for our patients, the following section addresses several tooth extraction questions that we often receive.
Can I Leave the Space Empty After a Tooth Extraction?
When a tooth has been removed, you do have the option of letting the space where it used to be remain empty. However, it's generally recommended to have an extracted tooth replaced as soon as you can. You need a full set of teeth to speak clearly and properly chew your food; an incomplete smile makes it harder to accomplish these tasks on a daily basis.
As such, when we determine that tooth extraction is the best option for your oral health, we'll make sure that you're aware of your replacement options. A dental bridge, a partial denture, and a dental implant topped with a crown can all be used to fill in a gap in your grin.
How Should I Prepare for My Tooth Extraction?
The preparations you need to make for your tooth extraction will depend on the specifics of your procedure; as such, any instructions we give you will be personalized for your unique situation. In particular, we'll let you know what you need to bring and whether you'll need to avoid eating for a certain amount of time before your appointment. You may need to pick up a prescription, so be sure to give yourself plenty of time to do so.
What Risks are Involved with Tooth Extractions?
Tooth extraction is generally a very safe routine dental procedure. The main risk you have to be aware of is that an infection might occur while your mouth is healing; for this reason, it's very important that you follow our aftercare instructions carefully to keep your mouth as clean as possible.
Furthermore, some people experience what is known as a dry socket. This is when the blood clot protecting the surgical site is dislodged, causing pain and interfering with the healing process. We'll explain what steps you need to take to make sure your blood clot stays where it needs to be.
Does Getting a Tooth Extracted Hurt?
We'll numb your mouth at the beginning of the extraction procedure to help keep you comfortable. After your extraction, you're likely to notice some soreness. Taking your prescribed medications will help keep the discomfort under control. If there's any swelling, you can apply an ice pack to the outside of your mouth over the area where the extraction was performed.
The pain you experience after a tooth extraction should not get worse over time. If it does, get in touch with our team right away.